One of the best things about action cams like GoPro is that you can safely take them underwater, film some great footage, and not worry that they will break. I'm sure we can all imagine how great 360 videos would look underwater, but are there any waterproof 360 cameras right now? Let's take a look at the options:
The best waterproof 360 camera: Garmin VIRB 360
Garmin VIRB 360
The best waterproof 360 camera available now. Completely waterproof up to 10m and can shoot amazing quality 5.7K 360 video.
The VIRB 360 is a waterproof 360 action camera developed by Garmin, I've owned this camera for a while and can confidently tel lyou it's the best 360 camera that's waterproof. The VIRB 360 is completely waterproof up to 10m and can shoot 5.7k 360 video. The VIRB was released in June 2017 and retails at around $760, so while it is the most expensive consumer level camera on this list it is also probably the best.
The VIRB features internal stabilization and has a range of sensors, you can even overlay graphics such as a speedometer using the official app. The camera does not require any extra housing or cases to be waterproof, so you can take it underwater straight out of the box. As well as being the best waterproof 360 cameras, the VIRB is one of the best overall cameras of 2017.
| Feature | VIRB 360 |
| --- | --- |
| Number of Lenses | 2 x f/2.0 |
| Video Resolution | 5.7K @ 30fps unstitched 4K @ 30fps stitched [email protected] 60fps unstitched |
| Photo Resolution | 15 Megapixels 5640 x 2816 |
| 360 Live-Stream | 4K @ 30fps (Apple Only) |
| Stabilization | 3 modes: stabilize, lock, follow (up to 4K) |
| Waterproof | Yes, up to 10m |
| Shockproof | Yes |
| Memory | MicroSD up to 128GB |
| Battery | 1 hour continuous video on full charge |
| Sensors | Gyroscope Accelrometer GPS Barometer Compass |
| Audio | 360 Audio with 4 Mics |
| Compatibility | Android/Apple |
| Price | $800/£650 |
| Where to Buy | Amazon |
Runner up: 360Fly 4K
360 Fly 4K
360 action camera that's waterproof and shockproof. 4K video looks great and easily controllable via dedicated app.
A second generation 360 camera with 4K resolution and constructed with durable materials. Targeted at the action cam market, the 360fly 4K boasts an impressive array of features; water proof up to 30 feet, dust proof, in built GPS, advance editing app, this is one of the big boys of the 360 camera crowd. The cameras field of view is limited to 360 x 270 degrees due to having only a single lens, never the less the quality of the 360 video it produces is one of the best available in this category.
Nikon Keymission 360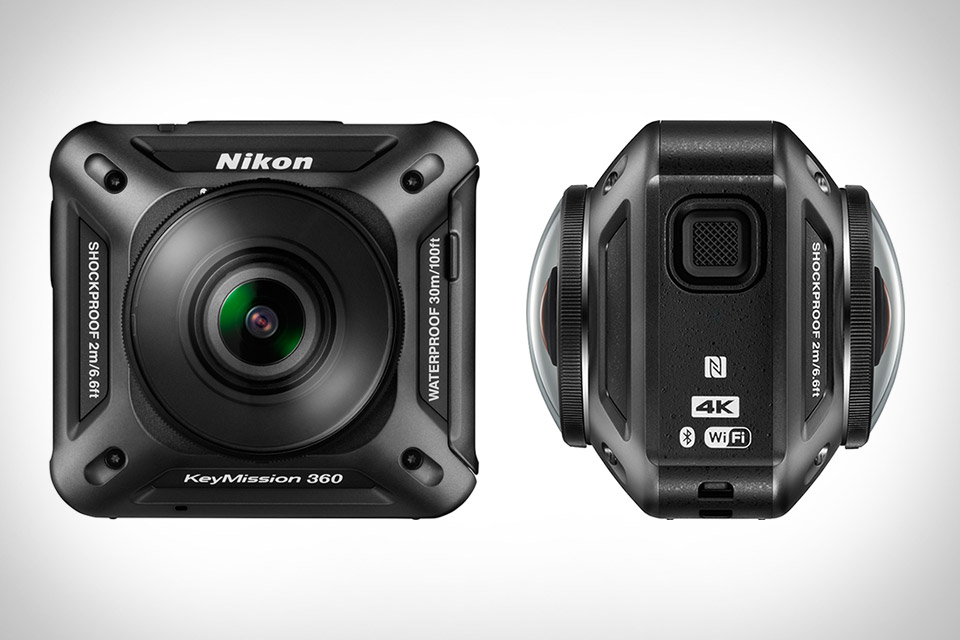 Veteran camera maker Nikon has released its first range of action cameras, one of which is the waterproof Keymission 360. The Keymission is a 4K 360 camera that can shoot UHD spherical video and stills, it features 2 lenses and has no blind spots. The camera is waterproof up to 30 metres, but you need to use an external case which may be visible in any video you shoot. The Keymission has decent hardware but has been dogged with software issues, if you can tolerate this then it's one of the only waterproof 360 cameras that can shoot in 4K.
Nikon Keymission 360
Nikon's first 360 camera. Rugged, shockproof and waterproof when used with added casing. Can shoot 4K 360 video
Gear Pro Waterproof Sports Action Camera
The Gear Pro is another single lens 360 action camera and again the field of view is limited because of this. The camera shoots at a resolution of 1080p, which is too low for HD quality 360 footage. A marine grade waterproof kit keeps the camera dry when submerged in water, unfortunately the low resolution video really does look bad.
Campark 360 Waterproof  Action Camera.
This 16 megapixel 3K resolution action camera is one of the only 360 camera to come shipped with dedicated waterproof housing. The Campark is aimed at action cam enthusiasts who want to take 360 degree video underwater.
The camera resolution is 3K, which is slightly less than the desired 4K, but for the price of the camera it's still rather good. As the camera only has 1 lens the filed of view is limited to 360 x  240. This means that the Campark technically isn't a full 360 camera because you won't be able to capture the space underneath the lens. If this doesn't bother you then the Campark could be a great choice if you are looking for a 360 camera to take into the sea or swimming pool as it's waterproof to a massive 100 feet!
LG 360 Cam Water resistant Case
While the popular LG 360 Cam is not waterproof you can buy this water resistant housing to protect it from water damage and take some very shallow underwater shots. The transparent case it constructed from polycarbonate and will protect your camera fro dust, dirt and water. You should not take this underwater for a long period of time or deeper than a few feet, but otherwise it should allow you to take some cool underwater shots with your LG 360 Cam.
Boxfish – Professional Underwater 360 Camera
The Boxfish is a 360 camera specifically designed to be used underwater. It shoots high quality 5K video at a depth of 300 metres. It's designed to be used by professional film makers or researchers who want to capture the depths of the ocean, so it's a bit our of most peoples price range. The cost of the Boxfish 360 camera is a pricey $14,990, if you are interested in this very cool camera then check the Boxfish website.
That's all the options available for waterproof 360 cameras right now. Apart from the very pricey Boxfish, the best by a long shot is the Nikon Keymission 360 as it shoots in full 360 degrees and in 4K, but it's also the most expensive. Once the VIBE 360 camera is released this will be the clear winner in the waterproof 360 camera category. If any more waterproof 360 cameras are announced I'll be sure to let you know.